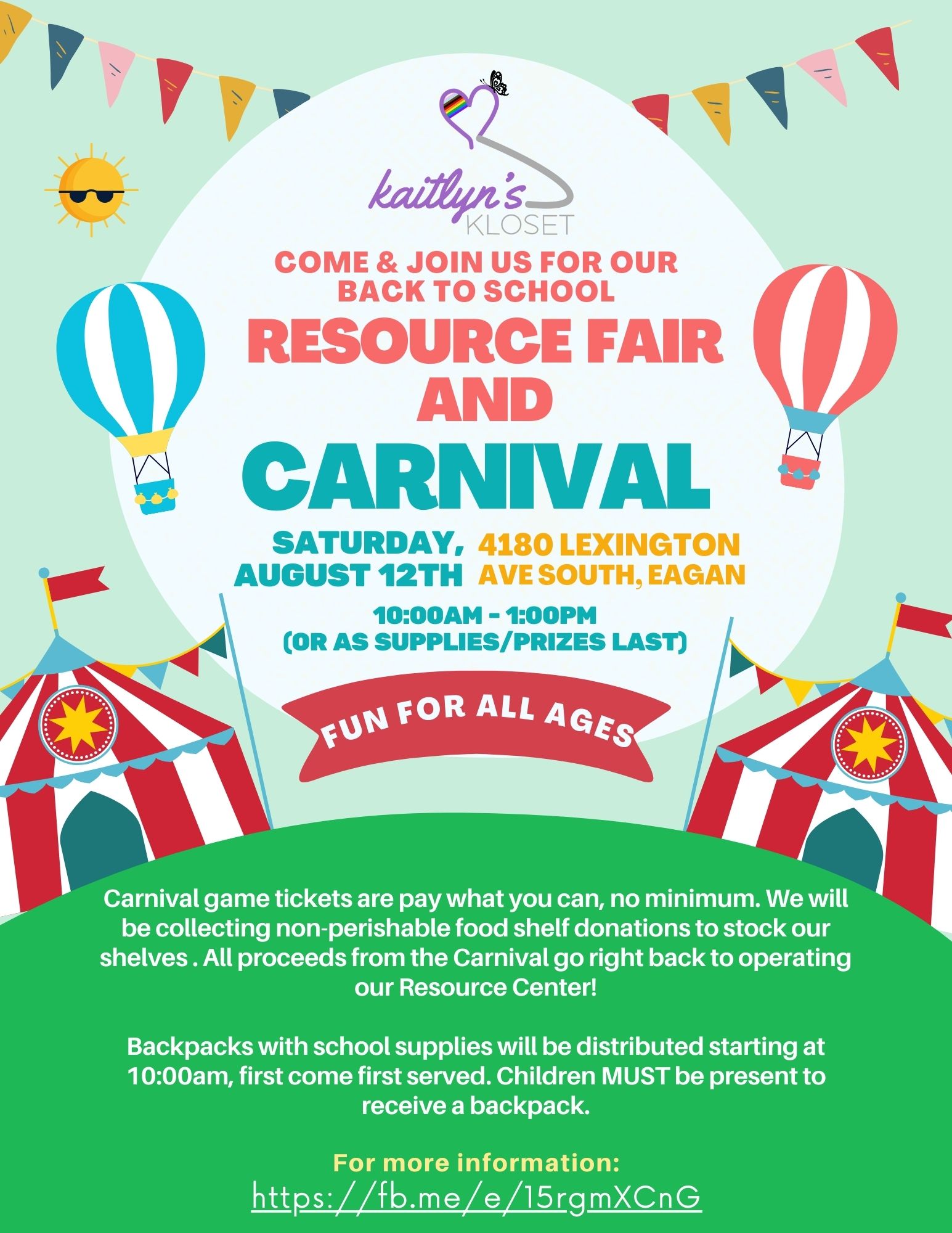 Kaitlyn's Kloset Back to School Carnival and Resource Fair

Kaitlyn's Kloset Back to School Carnival and Resource Fair
Please join us from 10 a.m. to 1 p.m. (or as supplies last) on Saturday, August 12th at Saints Martha and Mary Episcopal Church located at 4180 Lexington Ave South, Eagan, MN 55123. 
Backpacks!!!
SOTRM and Kaitlyn's Kloset Annual Backpack and School Supply Distribution
Backpacks full of school supplies will be distributed at our carnival!
– Children ages 5-18 will be able to receive a backpack with supplies.
– Children MUST be present to receive a backpack with school supplies. NO EXCEPTIONS.
How will prizes work for the carnival games?
This year, we will be doing a traditional prize-counter style. You will go to a game, pay your ticket, play the game, and if you win, you will receive a winner ticket. Winner tickets can then be collected as you play games.
When
you've collected winner tickets and want to "cash in" to redeem your prize, you will head to the prize counter and choose what you'd like. Like traditional prize counters, there will be categories of prizes. X prizes cost 3 winner tickets, Y prizes cost 10 winner tickets, Z prizes cost 20 winner tickets, etc.
What's different about our carnival prizes? We have hundreds of BRAND NEW prizes, ranging from small party favor style prizes like the ones in the photo here, to Barbies, Lego sets, and more!!!
How do game tickets work for the carnival?
We want everyone to be able to come and enjoy a fun day with carnival games, prizes, and an awesome resource fair! This means, don't stress about the money!
For
folks who can pay, great! You may pay whatever you'd like (free-will donation) for your game tickets.
For folks who cannot pay, great! You'll still receive your game tickets!
We will be collecting non-perishable food items to stock the shelves at our resource center. Bring any items and receive game tickets for your food donation too!
This is also a great way to donate your loose change, extra dollar you found in the car, or to pass on that food you got but nobody in your house will eat!
*** Please note, prizes are available on a first come – first served basis. We have hundreds and hundreds of prizes to win, but we cannot guarantee they will last all day ***